AEM029-1 The Unsacred Hearts (Follow-Up Review)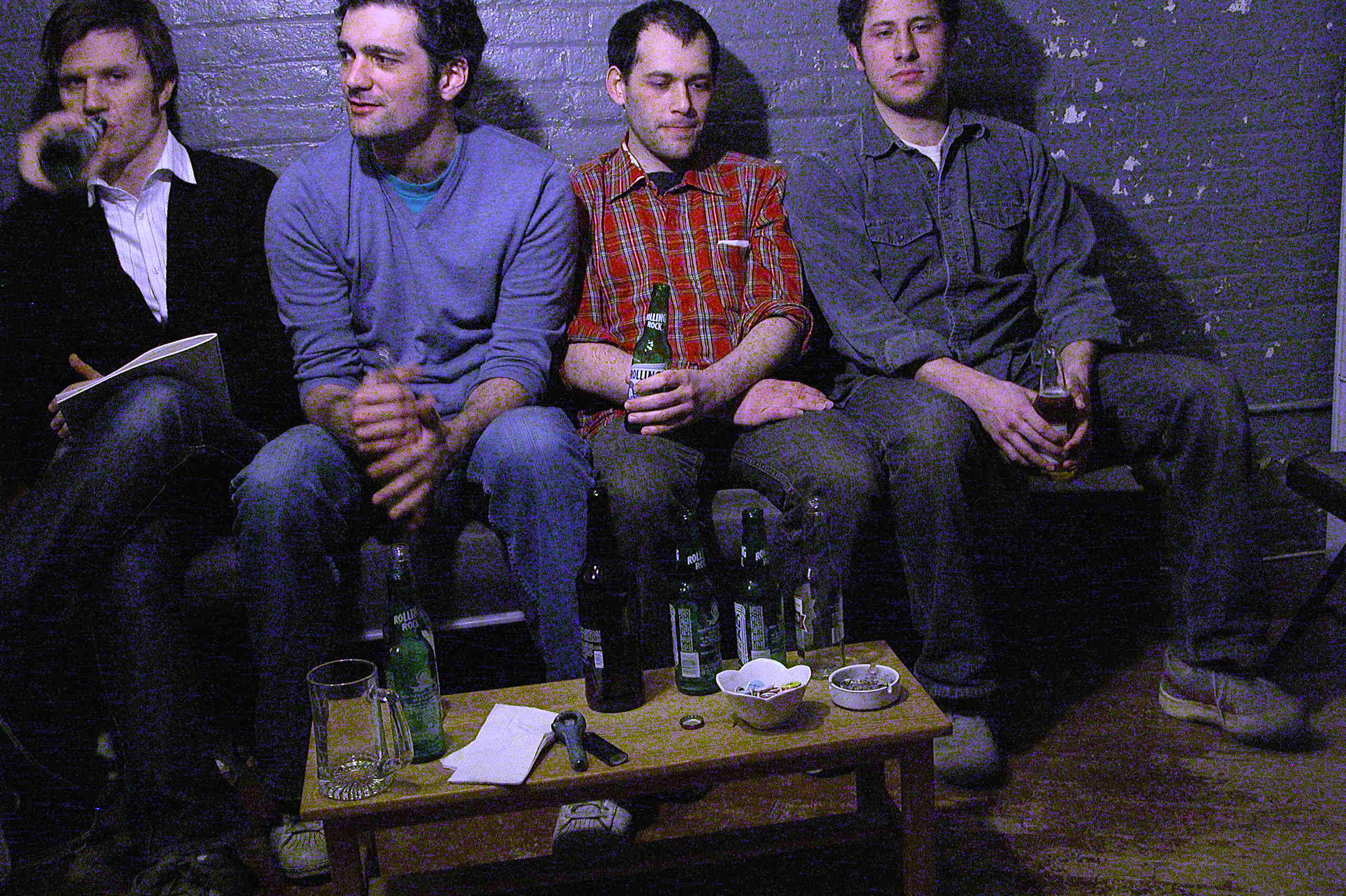 Issued almost two years ago on November 30th 2009, AEM029 introduced The Unsacred Hearts as a band in the midst of a sea change, caught between their early roots as a firebrand post-punk outfit from Blue Point Long Island and an uncertain future as a group of poetically inclined and musically intelligent adults with jobs, law degrees, wives, and children. For the last five years The Unsacred Hearts have been working towards their latest album, fixing on it like a distant star that's always visible but just barely out of reach. Instrumental versions of the songs have been floating around for years, serving as the soundtrack to band members' lives, both informing and being informed by this great transition. Drummer Travis Harrison even walked down the aisle to an early version of B-Side "Flesh and Bone". Working off and on at Serious Business Music with a coterie of friends, the album began to take shape, and at last The Unsacred Hearts completed and released The Honor Bar. We're thrilled to follow up on our original 7-inch with two tracks from this release, which is available now on CD and Cassette from Serious Business Records.
I spoke with drummer, producer, and engineer Travis Harrison about the new record and the impetus behind The Unsacred Hearts' change in musical direction. It was, he explained, an attempt to make music that was more accessible, and that he could put on at home without being asked to turn it down or off. The band simply wanted to make the kind of music that they themselves wished to listen to. After years of punk-inspired invective, The Hearts wanted to recast themselves in a mold that spoke more directly to their current situation. When their self-titled debut was released in 2004 they didn't have families or careers. There's a reason that the music-to-beverage-matching website drinkify.org lists "The Unsacred Hearts" recipe as 4 oz. Marijuana, 4 oz. Ginger Ale, and 1 oz. Macallan Scotch. They were once young dudes making loud music. Now they're medium-young dudes making listenable music. It's a change that makes most musicians uncomfortable, like they're giving up some essential part of their being by sacrificing the attitudes they developed as teenagers. But what The Unsacred Hearts understand is that their energy and enthusiasm isn't gone, but rather rechanneled into creating a lush musical territory they were once too drunk or nearsighted to fully render. Singer and lyricist Joe Willie sums this up wonderfully, "While we made our bones on ultra-distilled rock and roll, weird chords and wild live sets, we always led with the heart. Loud and fast, yes, but the sonic boom was just the straightest line to the truth."
If "the truth" is something that can be distilled into a song (and I believe it is), then Joe Willie is a kind of musical oracle. In his earlier days he came across as a frenzied beat poet frontman, as if someone had given Jim Morrison the stage at an open mic and handed him an eight ball of cocaine. On The Unsacred Hearts' latest material he comes off as sage-like, split somewhere between Tom Waits, Lou Reed, and Gil Scott-Heron. The acoustic landscape of this album is less jagged than in past attempts, and Joe Willie's spoken vocals float atop a more serene trajectory, allowing for greater focus on a blended aesthetic and lyrical turns of phrase. In his summary of the album, which is itself a masterful bit of prose, he turns back to New York as a cyclical influence on The Honor Bar. He explains, "The Honor Bar evokes the city of New York itself or, rather, the city resounds in The Honor Bar. The maelstrom and beauty of the city comes across in the sparse, unerring beats, the stark instrumental phrases, the myriad voices in whispers and shouts. Webs of sounds, words and images – all traffic on the Bowery and midtown sky scrapers – juxtapose with the sweet intimacy of the fire escape and 2AM walks down solitary side-streets." It's a soundtrack not for New York City, but an abstraction of New York City, for those precious few moments when you lose yourself completely in the web of monolithic architecture and compact humanity.
A-Side and title track "The Honor Bar" fades in to a tumble of percussive thunder and giving way to hand drum percussion and a driving figure on acoustic guitar set to the walking pace of your average long-legged New Yorker. The instrumentation is lush, with glockenspiel, bass, piano, accordion, electric guitar, and a compressed drum set added to the mix at the chorus. There's an electronic vibe to this track that's unheard on previous recordings–the tinkered drum sound and distorted melodic figure on the outro all hint at an extended sonic palette for The Unsacred Hearts. It all serves as a backdrop for Joe Willie's baritone musings, which are heard with a new depth and resonance thanks to the relative tranquility of the musical accompaniment. This was the last song completed for The Honor Bar, and best encapsulates the attitudes driving the band's project in self-reinvention. This is music I could read to, music I could work to, music I could put on and ignore, but what makes it special is that I wouldn't actually want to do any of those things. Something about it continues to command listeners' full attention, and it does so through a great depth of musical vision rather than pure volume. This more than anything is a sign that The Unsacred Hearts aren't just growing up and continuing to make records–they're maturing.
B-Side "Flesh & Bone" is a lyrical pastiche of musical and literary references. Some are undoubtedly intentional and some maybe incidental, but none come off as heavy-handed. Rather, they succeed in evoking the spirit and ambiance of entire songs and imparting some part of their essence and meaning on "Flesh & Bone". The complete lyrics are below, with footnotes:
Picture me, picture you, in a picture book(1) we're paging through Picture me with the slings and the arrows(2), picture me when the dirt road narrows On a hill, far from home, straits of Gibraltar, streets of Rome(3) Mississippi River rolling slow, lost in the rain, Juarez, Mexico(4)
When you're tired, when you're on your own I'll be there, flesh and bone I miss you, baby, when the river bends(5), I miss you, baby, when the dirt road ends Picture me, picture you Picture me, perchance to dream(6), picture you, beside the stream
When you're weary, when you're on your own I'll be there, flesh and bone
1.) The Kinks - Picture Book: "Picture book, pictures of your mama, taken by your papa a long time ago. // Picture book, of people with each other, to prove they love each other a long time ago."
2.) Shakespeare - Hamlet: "To be, or not to be, that is the question: // Whether 'tis nobler in the mind to suffer // The slings and arrows of outrageous fortune, // Or to take arms against a sea of troubles, // And by opposing end them?"
3.) Bob Dylan - When I Paint My Masterpiece: "Oh, the streets of Rome are filled with rubble / Ancient footprints are everywhere / You can almost think that you're seein' double / On a cold, dark night on the Spanish Stairs"
4.) Bob Dylan - Just Like Tom Thumb's Blues: "When you're lost in the rain in Juarez // And it's Eastertime too // And your gravity fails // And negativity don't pull you through // Don't put on any airs // When you're down on Rue Morgue Avenue // They got some hungry women there // And they really make a mess outta you"
5.) The Country Gentlemen - Down Where: "Down where the river bends // With God's help we'll meet again // Under the same old sycamore tree // Proud of each other in the land of the free // I'll go down to the ocean blue // Just as close as I can to you // This old ocean might keep us apart // But it won't keep you dear from out of my heart"
6.) Shakespeare - Hamlet: "To die, to sleep // To sleep-perchance to dream. Ay, there's the rub! // For in that sleep of death what dreams may come, // When we have shuffled off this mortal coil, // Must give us pause-there's the respect // That makes calamity of so long life."
These references weave an intricate subtext to the song, evoking numerous depictions of death and forcing us to consider the nature of human memories and interactions. The Picture Book reference suggests that we document our own lives only to convince ourselves that we've had substantial experiences once we can no longer feel them so acutely. And yet, though memories fade, some experiences persist across time, and there's an element of humanity's presence that we can seemingly access through locality or state of mind, as indicated by the reference to When I Paint My Masterpiece. But through all this, through hardships and struggle, what should be our relationship with death? Is it an escape or a demise? Joe Willie engages this conversation with a text of his own, profoundly contemplating man's position on this earth and our relationship to a hazy past and a precarious future. This interaction is realized musically as an acoustic ballad, giving way to vocal counterpoint between Joe Willie and guest vocalist Jaymay, in an exchange that grapples with the eternal nature of true love, which is wholly supported by Willie's lyrics and simultaneously problematized by the various references sprinkled throughout the song. Once fully teased out, it's a brilliant polemic that's typical of Joe Willie's remarkable insight as a lyricist.
To round out his description of The Honor Bar, Joe Willie writes, "The Honor Bar is certainly not for everyone and neither are The Unsacred Hearts. When we formed, our only goal was to make rock n roll. We did not ask, what is cool, what do people want to hear, or what should we wear. The only question was, how do we keep playing rock n roll? And, over the years, we kept asking that question with each new song, each live set bringing a response. When we last asked, the answer was The Honor Bar." I couldn't have said it better myself.
---
The Honor Bar
https://ampeater.s3.amazonaws.com/aem029-1/01 The Honor Bar.mp3
Flesh and Bone
https://ampeater.s3.amazonaws.com/aem029-1/02 Flesh and Bone.mp3