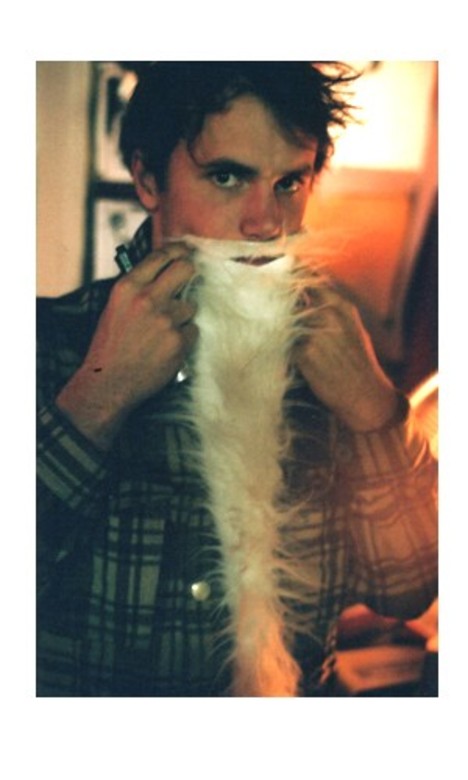 When I was sixteen and at the height of my Microphones obsession, I saw Phil Elverum at the First Unitarian Church in Philadelphia. [Ed.: Jake, why do all of your reviews start with an adolescent anecdote? Are you writing about music just to revisit your unspoiled youth? Jake: Um…Yes.] The set had all the familiar Microphones vibes: pseudo-mystical lyrical meanderings, fans sitting on stage, and endearingly mousy stage banter. The real surprise came when I asked Elverum to sign my journal. Rather than give me the minimum-effort John Hancock, he spent ten minutes drawing an enormous mountain towering over the clouds. "That's Mount Eerie," he said, pointing to the mountain, "and that's the world." No one, including Elverum, has unlocked the full significance of Mount Eerie the concept, but that hasn't stopped him from delving deep into murky symbolism. Since that concert, the Microphones have ditched their original moniker for Mount Eerie, released Mount Eerie Pts. 6 and 7 as a sequel to the five-track Microphones swan song called-you guessed it-Mount Eerie. More recently, Elverum has been exploring the sounds of Norwegian Black Metal, an element once present in classic Microphones songs like "Samurai Sword," now brought to the fore in albums like Black Wooden Ceiling Opening (2008) and, most recently, Wind's Poem (2009). Elverum's story is a familiar one. Music loving kid works in a record shop, starts playing around with recording equipment, records sloppy and earnest demos. The difference between Phil Elverum and other home recording artists, however, is that his recording projects eventually caught the attention of Calvin Johnson, founding member of Beat Happening and head of K records, during a brief stint in Olympia. Elverum was given access to Johnson's famous Dub Narcotic studio where he began a long discography as The Microphones, including It Was Hot, We Stayed in the Water (2000) and the seminal The Glow, pt. 2 (2001), the latter of which was recently treated to deluxe reissue. While The Glow, pt. 2 was and remains his most critically acclaimed album, 2004's Mount Eerie unveiled the severest themes of Elverum's imagination. Confronting death, rebirth, nature, and the universe, the album was an epic five-part opera set on Mount Eerie-a real mountain on Fidalgo island that looms over Elverum's homebase in Anacortes, WA. It may have been unintelligible to those who'd been won by The Microphones' more concise lo-fi folk statements; for others it represented the culmination of a genius' lifelong meditation on the universe's mysteries.
When I spoke to Elverum he was reluctant to embrace an overarching thematic interpretation of his music. "I guess it's true that my songs can seem focused on nature, but it's not intentional," he said. "It's just the world that makes sense to me. Maybe it had to do with growing up with my family and going on camping trips… But I'm really hesitant to talk about nature as this picturesque, separate place other than the world we live in. When I sing about nature, I feel like I'm trying to sing about the same world that we all live in and that there are these totally wild things that are totally natural that happen in our daily lives. It's not like you live your life, and then you go on vacation to a beautiful place, and then come back to real life."
After the heady explorations of Mount Eerie the album, The Microphones were reincarnated as Mount Eerie the band. It's unclear what exactly prompted the name change. Of course, that element of mystery is a vital part of Elverum's aesthetic language. "All of my stuff that I do I end up having not that much control over it. It just comes out, you know? So I can only look at it from the same perspective as you, like 'oh well from this era there are a bunch of songs about this topic and from another era there are a bunch of songs about that.'" This might seem like a frustratingly lazy attempt at self-definition, but there's something much deeper at play. "I kind of consider all of my songs to be part of one big project," he explains. "Although some songs are little islands of their own, they don't get touched once they're done, most of them are just part of this larger conversation that I'm having with myself." Rather than try to plot a grand aesthetic mission and force all his music into that mold, Elverum writes songs about life the way we actually live our lives-with great uncertainty and open senses.
That openness has recently pervaded the recording process. A-side "Lost Wisdom," the eponymous track from Mount Eerie's 2008 LP, was a spontaneous home-recording session with Julie and Fred Doiron of the influential Canadian outfit Eric's Trip. "Well, we didn't intend to record an album," Elverum explained. "We were just casually recording these songs in my studio, for no reason. It was ambiguous what they were going to be used for." Despite Elverum's modest deferral to the forces of spontaneity and ambiguity, this song proves to be a mini-masterwork. Just dig the lyrics, which are so personal as to render personhood an uncanny specter: "My lost face in the mirror in the gas station/ Who are you but my face that I wake up with alone?"
B-side "Stone's Ode" charts an epiphany at the foot of natural wonders. Suddenly, "life has new meaning. Alive, propped on bones, overwhelming feeling." Sentiments like these abound in Elverum's music, which seeks beauty in the self as much as it does in the wonder of our environment (broadly construed). It's the mysterious alchemy of the personal and the universal that gives Mount Eerie its unfamiliar familiarity. Sometimes, magic. The great expanse of our senses induces a moment of spiritual clarity. The vessel of spirit, the self, becomes untenable, vaporous.
---
Lost Wisdom
https://ampeater.s3.amazonaws.com/aem028/01 Lost Wisdom.mp3
Stones Ode
https://ampeater.s3.amazonaws.com/aem028/02 Stones Ode.mp3